Rolf Marco Kazek

Rolf, the foreign boy in Peach Creek

Height:

5'9

Weight:

225 lbs

Age:

15

Born in:

Somewhere possibly in Europe

Lives in:

Peach Creek

Wrestling influences:

Sheamus

Drew McIntyre

Matt Morgan

Crimson

The Usos

Hernandez
Rolf
Rolf is an immigrant from a possibly European country and has a thick accent to match. He works with his parents in their small farm leads a boy scout-like group called The Urban Rangers that includes Jimmy, Jonny, and Plank. Rolf often speaks in third person as well as being the son of a shepherd, in which he takes pride. He hardly minds the Eds unless they make a fool out of him or insult his culture, after which he is not afraid to use brute force.
Rolf confuses the rest of the kids with his unusual customs and food-making. His best friend is Kevin and relates well with Jonny. He has a strong liking for meat. Nobody except himself and his family knows what country he is from but, as every single thing that's linked to him is known, he is most likely from Eastern Europe.
Wrestling Career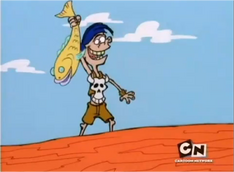 Rolf has been apart of the PCUW roster since the beginning. On the debut episode, he faced Ed for the World championship, but failed at capturing it. During the next few months, Rolf joined Kevin in the formation of The Destiny Empire. Also during that time, the two became a successful tag team. At Halloween Havok, they caught the PCUW Tag Team titles from Van Culmer and Corey Dominic. At End of Days, Rolf went against Ed for the World title in a steel cage, but lost. Also, there are possibilities that Rolf has a fear of steel cages.
Lately, Rolf has been competing in the New Day series and defending the tag team titles with Kevin. At New Day, Kevin and Rolf lost their tag team titles to former tag team champions Van Culmer and Corey Dominic, after Van became the first person to reverse Rolf's Lobster Lock hold.
Rolf's wrestling influences include Sheamus, Drew McIntyre, Matt Morgan, Crimson, The Usos, and Hernandez.
Ring Names/Nicknames
Finishers
Old Country Splash (Big Splash)
Lobster Lock (Figure Four Leg Lock)
Shepherd Kick (Brogue Kick)
Tag Teams/Stables
The Destiny Empire
Kevin and Rolf
Title Reigns
1 Time PCUW World Tag Team Champion
Entrance Music
Written in My Face by Jim Johnston and Sean Jeanees (Sheamus' theme)
Immortal Theme by Dale Oliver (Immortal's theme; The Destiny Empire's theme)