Nazz Rachel Van Bartonschmeer

Nazz, pretty but tough.

Height:

5'3

Weight:

165 lbs

Age:

14

Born in:

Peach Creek

Lives in:

Peach Creek

Wrestling influences:

Tara/Victoria

Gail Kim

Mickie James

Traci Brooks

Trish Stratus
Nazz
Nazz is the unattainable love interest in Peach Creek. Beautiful and trendy, and she hangs out with Kevin mostly. Almost all the boys like her. She is the head cheerleader of the school's cheerleading squad. Nazz has her times of being smart, but has times of being a "dumb blonde" as well
Wrestling Career
Nazz was one of the first of the PCUW Knockouts and the first one to win the PCUW Women's championship. At first, she was considered a face due to her love for the crowd. But as the weeks went on with Kevin forming The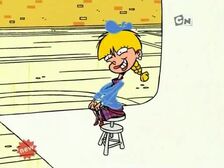 Destiny Empire, there were obvious changes in Nazz's behavior. She would abandon her partner in tag team matches, interfere in other face Knockout matches, and even attack them backstage. Because of that, she turned into a tweener, people still liked her even though she was doing the wrong things. Weeks later after the behavior changes, there were clues that Kevin was possibly blackmailing her. Example, he forced her to become a member of The Destiny Empire, which she didn't want to do. There were stories that Nazz wanted Kevin to quit the heel behavior and threatened to not be his friend anymore if he didn't. For weeks, Nazz was doing what Kevin told her and over time, she started to turn heel completely, betraying her friends and eventually becoming Kevin's girlfriend. Shortly after she turned completely, she lost the women's title to Raven Wells. However three months later, she won the title back with the help of Marie Kanker. She even was able to retain her title against Raven at St. Valentine's Day Massacre, thanks to interverance from Wolf Lancaster.
Lately, Nazz has been watched by Knockout Law Marina Coleman and she currently has a burning hatred for her. At Breaking Point, Nazz defeated Nikki Sierra to retain her title. At Road to Glory she defeated Ariyanne Hamilton to keep her title and did the same thing against Selena Russo at Final Countdown, and it was even a Street Fight!
At New Day, Nazz lost her Women's title to Ivory Gerdelman in a Ladder match. In a PCUW.com (page doesn't exist) interview, it was revealed that during the match, Nazz broke her arm after she was supposed to hit a Starstruck Elbow Drop on Ivory who was on a ladder, but Ivory moved and Nazz hit the ladder instead.
Nazz's wrestling influences include Tara/Victoria, Gail Kim, Mickie James, Traci Brooks, and Trish Stratus.
Ring Names/Nicknames
Finishers
Starstruck Elbow Drop (Elbow Drop from the top rope)
Tag Teams/Stables
The Destiny Empire
The Flawless Girls (not really)
Title Reigns
2 Time PCUW Women's Champion
Entrance Music
Crushcrushcrush by Paramore
Immortal Theme by Dale Oliver (Immortal's theme; The Destiny Empire's theme)