Marie Samantha Kanker

Marie watching the TV.

Height:

5'5

Weight:

175 lbs

Age:

14

Born in:

Somewhere else besides Peach Creek

Lives in:

Peach Creek

Wrestling influences:

Beth Phoenix

Kharma

Natalya

ODB

Victoria/Tara
Marie
Marie is the middle sibling of the Kanker Sisters. She is often shown as relatively, somewhat, crafty and sneaky. Marie is an easily angered, intimidating, and rather tomboyish girl. Her menacing personality often frightens the other kids before she even speaks or acts, to no surprise. She is shown to be immensely strong, and enjoys using it. She is a talented fighter, succeeding in taking out all three Eds in under twenty seconds using wrestling alone (not the case in PCUW though). She is in love with Edd, and many times he has been victim of the extreme love she has for him.
Wrestling Career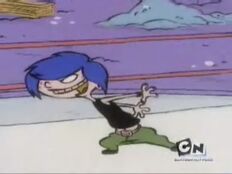 Like her sisters, Marie had some early success in PCUW. On the debut, she and Lee became the first PCUW Women's Tag Team champions and held the belts until two weeks before Halloween Havok when beaten by Rock n' Roll Country. At Halloween Havok, Marie cost Raven Wells the PCUW Women's championship after she distracted her during the match. But three days later, Marie tapped while being locked into the Sharpshooter. At Survival of the Fittest, they had a rematch for the women's tag team belts, but failed to regain them. Since then, she and her sisters haven't been in a lot of action, but are still in a rivalry with Rock n' Roll Country.
At Final Countdown, the Kankers were scheduled to face Ivory Gerdelman in her final match in her Best of 3 series challenge for being the #1 contender for the women's title at New Day. But before the match, Lee and Marie were attacked backstage.
At Independence Day, Marie along with May went out and KankerBombed the Women's Tag Team champs Ashley and Jenny after they successfully defending their belts, signaling they wanted them.
Marie's wrestling influences include Beth Phoenix, Kharma, Natalya, ODB, and Victoria/Tara.
Family
Siblings: Lee Kanker (Sister), May Kanker (Sister)
Parents: Bubba (Possible dad), Rod (Possible step dad), Butch (Possible step dad), Mother
Finishers
Tag Teams/Stables
Title Reigns
1 Time PCUW Women's Tag Team Champion (with Lee)
Entrance Music
Bad Romance by Halestorm
Dirty Work by Halestorm (The Kanker Sisters Year 1 theme)
Loves Bites (So Do I) by Halestorm (The Kanker Sisters current theme)